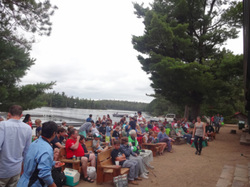 Every summer, on the Saturday of the Labour Day weekend, the Bursary Fund Auction is held at Camp Ahmek on Canoe Lake. Beginning at 4:30 p.m. on the main beach in front of the Ahmek Dining Hall, a wide array of fun and exciting items are auctioned, with all the proceeds going towards the Bursary Fund. The 2014 Labour Day Auction was another success. Highly sought-after prizes fought over by the crowd have included everything from a weekend retreat in Vermont to a pair of bookshelves constructed from the hull of a canoe. Thank you once again to all who have donated or secured items for the auction – keep up the great work, items are always welcome.


The other part of the success were the bidders who showed unprecedented generosity in helping us raise a record total of almost $29,000 (insert exact amount) to help send children to camp in the summer of 2015.

This show of generosity is thanks to our donors, alumnae, and camp staff. How How! Interesting, fun, (and weird) items always make for a more fascinating and enjoyable auction, and it gives us all a chance to give something back to the Camps that mean so much to all of us.

A special thanks to the Taylor Statten Camps for hosting this annual event in support of the bursary.

For more information about the auction or to donate an item, please contact Tim "Mouse" Welsh at timothy.welsh@bbdo.ca or call 416-972-5622.